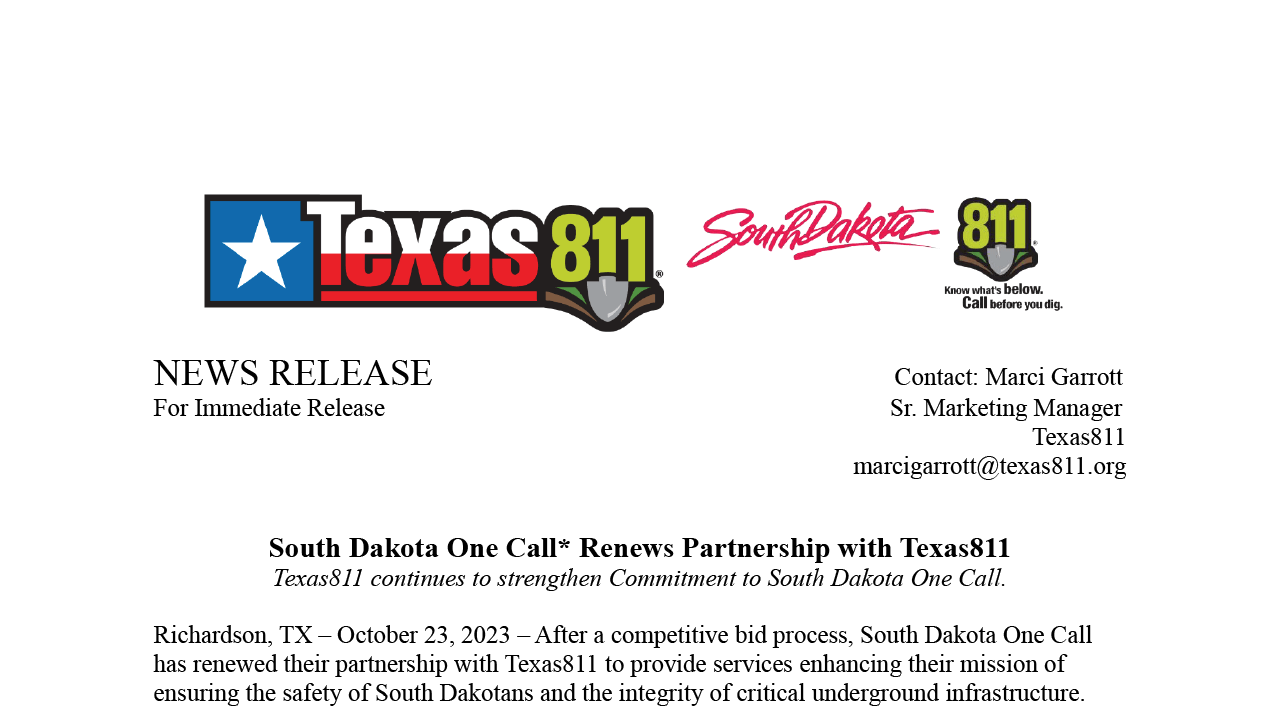 South Dakota One Call* Renews Partnership with Texas811
Texas811 continues to strengthen Commitment to South Dakota One Call                                                                            
Richardson, TX – November 1, 2023 – After a competitive bid process, South Dakota One Call has renewed their partnership with Texas811 to provide services enhancing their mission of ensuring the safety of South Dakotans and the integrity of critical underground infrastructure.
"It is both a privilege and our pleasure for Texas811 to continue serving South Dakota One Call and its customers for another five years. Connecting excavators and facility operators to protect them and South Dakota's underground infrastructure is more than just a service, it is our mission. We are also grateful to continue deployment of the new, mobile-optimized South Dakota One Call Portal and look forward to our next advancements in their damage prevention program," stated Scott Sasajima, Chief Operating Officer at Texas811.
South Dakota 811, the state's leading organization for managing underground utility damage prevention, has been a valued partner of Texas811 for thirteen years. Codi Gregg, Executive Director, South Dakota One Call stated, "This renewal will continue our long-standing successful relationship in protecting underground utilities and our excavators across the state."
About South Dakota One Call *DBA South Dakota811
The South Dakota One Call facilitates communication and protection for excavators and underground facilities operators.
About Texas811
Texas811 is a leading provider of One-Call and Damage Prevention Service, committed to delivering exceptional solutions, ensuring safety, and driving innovation. With a mission to facilitate damage prevention, promote public safety and protect the environment through stakeholder education and communication, we are proud to continue our partnership with South Dakota 811.
__________________


Contact: Marci Garrott
Sr. Marketing Manager
Texas811
marcigarrott@texas811.org