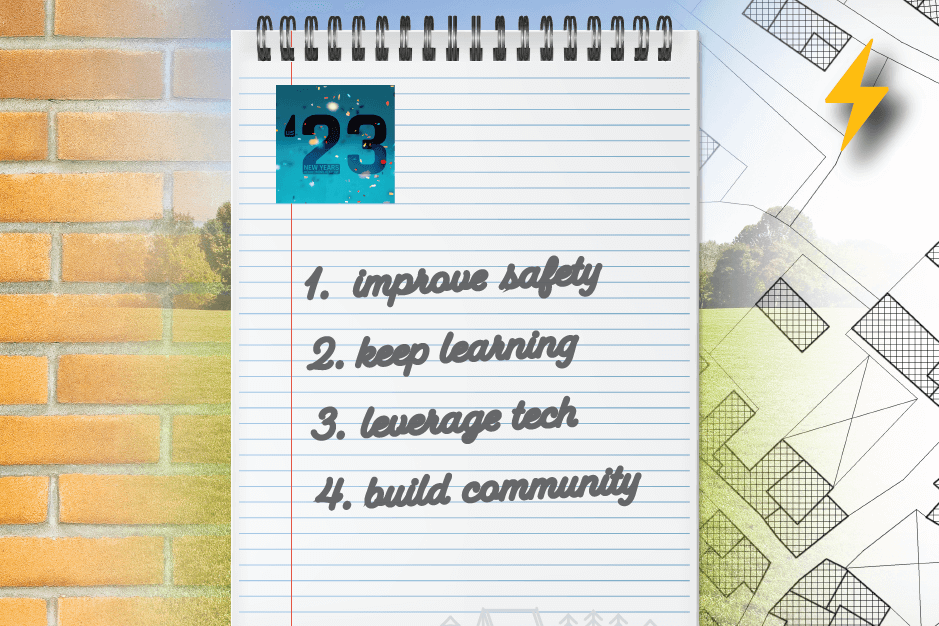 Only 9% of people keep their New Year's Resolutions, with the main reasons for quitting being, "they either lose motivation, have not prioritized their goals, or swap their resolutions for newer, more relevant personal goals." We're already halfway through the first month of 2023, but I think it's time to commit to some New Year's resolutions that are achievable and will bring success as we pursue a world of NoDamages. The CGA's DIRT Report doesn't always make for comfortable reading, but I think we can use it and some experience from within the industry to form 4 solid resolutions which will improve our industry:


Take safety seriously

Keep learning

Leverage Technology

Build Community
The first resolution on my list is taking safety more seriously!
I looked at improving safety in a previous NoDamage article, called Talk About Safety and the conclusion of it still rings true; "If we all do our part to increase safety and implement a safety culture then we can protect locators in the field and ease the way for zero damages." The five steps to building a safety culture that are identified in the article are as follows:
Identifying Hazards

Preventing accidents,

Using PPE

Reducing Stress and Fatigue

Using Technology
Secondly I'd like to propose that you commit to learning something new! Whether it's improving your locating skills, mastering GIS or honing communications with excavators there's always room for growth and development which will make you a better locator and ultimately reduce damages.
I covered some of the courses available in What's your end goal? but that list is far from exhaustive and there may be something in particular that you've been wanting to learn more about. Now is the time to pursue knowledge and increase your skills!
Thirdly may I suggest that you resolve to Leverage Technology in order to speed up your locates. Shane Hart the CEO of Competers recently wrote an article for dp-PRO on this exact subject and he isolated 8 different ways technology could be used to speed up locates:

Tracking damages with GIS,

Collecting mapping as you go,

Automate Dispatch functions

TMS functions like Ticket Overflow & Positive Response to cut down on office staff,

Triage tickets,

Sync with Utility's GIS,

Locator Tracking

Automate Routing
Following any of these steps will make you more efficient and enhance the speed at which you make decisions, complete tickets and churn through work.

And finally may I challenge you to build community within the industry. Burnout is one of the biggest problems for locators and that comes from workload, working conditions and the lack of appreciation in the industry. Building community within industry allows you to share your problems, learn from others and find solutions. We recently published an article from Mark Brennan, a 20 year veteran of the damage prevention industry where he shared some of the downfalls of locating as a profession. When looking to build your community you can do so online or in person, whatever works best for you. The main priority is that you don't feel isolated and that you encourage others. There is strength in numbers!


2023 is a new year, with new problems and new opportunities! Challenge yourself to improve as a damage prevention professional and drive our industry to increased safety and innovation, by adopting our New Year's Resolutions or making your own.


NEW YEAR'S RESOLUTIONS PLAYLIST